Hello & Welcome!
My name is Nat and I am a dollmaker. I create natural fiber art dolls from natural materials for children and adults.
I work according to traditional techniques, which are also used for the production of Waldorfdolls. However my dolls have a little more modern twist to them – like cheerful colors and sometimes more expressive faces and from my own patterns.
The doll's studio – handmade dolls
In addition to the readily available dolls for immediate purchase in the shop, I also make custom order dolls for all ages.
Each handmade doll is unique and therefore as individual as the human being for whom it is intended.
By using high-quality and natural, ecological materials when creating my dolls, they become a very special and long-lasting gift of the heart.
You can read more about my handmade dolls,  get free DIYs as well as tips and tricks on dollmaking over at my -> Blog…
---
---
You will find my self-designed and hand-sewn cloth dolls in the style of the Waldorf doll, which are created with great care and love in my little doll's studio …
---
Latest Posts
---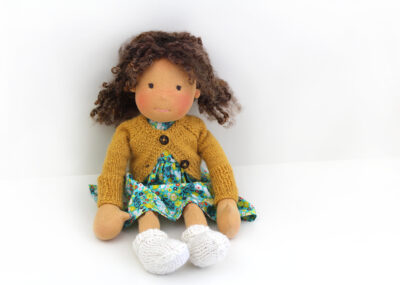 Sorry, this entry is only available in German. For the sake of viewer convenience, the…
"I belive people get happier when they get dolls and storybooks." – Astrid Lindgren