It already has been over a week now since I set my sails for the adventure of attending a weekend of doll making galore at the
European Waldorf Doll Seminar 2018
This international Waldorf Doll Seminar is held every two years and this year's was the second of its kind.
The idea sprung from the days of the guild system, when the members of the dollmakers' guild in the Netherlands and Belgium came together twice a year to attend workshops and to learn new techniques from each other. Also connected to the event at that time there was a large textile market, where everything concerning dollmaking was offered. Since this dutch guild does not exist anymore, the idea arose to install a similar event nowadays and to include dollmakers from different countries.
Thus, the European Waldorf Doll Seminar was launched and from now on would be held every two years. Each event has its own main theme and this year's was "Refining your doll making skills".
In order to meet the great demand and to give everyone interested an opportunity to participate in the workshops, the seminar this year should take place on two consecutive weekends in May and June.
Two years ago I sadly was not able to travel being very pregnant, so I quickly knew that I surely did not want to miss this year's opportunity to attend… And I was lucky enough to secure a seat attending two of the many highly requested workshops offered on the first weekend.
The Event
Kamrin and Berend te Kronnie from Kamrin's Poppenatelier have launched the International Waldorf Doll Seminar – thank you very much for all your work and efforts bringing dollmakers and dollenthusiasts from all over the world together. You have been truly wonderful hosts!
Like last time this year's Waldorf Doll Seminar was also held at the Hotel & Congrescentrum Mennorode in Elspeet. The idyllically located conference hotel was the perfect location for such a big event with over 100 dollmakers from all over the world attending.
Many participants, especially those traveling there from farther away, already arrived in Elspeet on Thursday, because the workshops started right after the welcoming speech on Friday morning.
On the first seminar days morning slowly all the participants and tutors made it to the big conference hall. What a special moment – many of whome finally meeting for the first time, maybe after having known each other online for quite some time and right away hugging and giggling together like old friends. Others finally meeting each other again after as long as two years. All connected through the wonderful bond being the love for dolls and dollmaking…
After the welcoming speech, the participants gathered around their respective tutors for their first workshop and from there went to their dollmaking classes together.
In the hotel side building "Grote Zaal" most of the workshops took place. Some however, were held in separate seminar rooms and also in the main building.

Busy bustle and diligent work of the various groups at the respective workshop tables.
Some dollmakers and doll lovers also arrived accompanied by their latest or favorite dolls. These then were passed around and of course curiously and expertly appraised by the others: lifting little doll dresses, inspecting seams, checking the firmness of the limbs, just to finally … lovingly patting the little head and hugging the dolly – probably like only a dollmaker will do. ;)

After a long days workshop with a lot of input, every night after dinner the dollmakers from all over the world gathered in the hotels garden taking a seat at the lounging area made out of bales of straw.
Meeting old friends, making new ones and getting to know each other better. And there was a lot of expert talk – in different languages and sometimes using hands and feet to articulate ("Do you speak doll ?!"). On this mild may spring evenings many lingered, felting or crocheting (some tutors delegated "homework" for their students) under a starry sky until late into the night, while chatting about dolls and life, drinking and laughing together …
In addition to the workshops, there were also some other interesting activities planned:
For example, Sabine of "Bienchen & Blümchen" organized a grab bag for all participants to take part in. Meaning one could bring a small gift (related to doll making) so this gifts acquired could be exchanged by chance among the participants later on. And there were indeed little treasures gifted; like pretty crocheted pincushions, tiny dolls shoes made from fine leather or antique fabrics and vintage lace. All things pretty and nice to delight a dollmaker's heart.
Also on Friday evening, a wonderful doll play by Ineke Gray(Petit Amsterdam) titled "Flower Market" took place in the Great Hall.
And finally, on Saturday evening, Maike Cölle of feinslieb gave a lecture on the important subject of toy safety and CE. Thus completing the already versatile seminars programme perfectly…

…So true.
The Workshops
Many of the most talented and sought after dollmakers had agreed to lead workshops and share their knowledge at the seminar.
The workshops held were correspondingly themed – ranging from classes on making a classic Waldorf doll or artful hair embroidery to currently popular techniques such as weft making and face sculpting. So regardless the level of dollmaking skills and knowledge there was a suitable workshop for everyone.
This years teachers and workshops were:
Maria Asenova von MaRiAs Nature Toys:
Long doll making workshop
&  Crocheting a doll wig
Maureen Broeder von Poppenliefde:
Create a complete 10" doll with Poppenliefde
Daria Gosset von Petit Gosset:
A 2-Day Advanced Head-Sculpting Workshop
& An Advanced Workshop on Doll Shoe-Making
Ineke Gray von Petit Amsterdam:
Creating a 30 cm doll
Meglena Jézéquel von North Coast Dolls:
Two-day advanced doll making workshop to create a 12" doll
Agnieszka Nowak von Lalinda:
Creating a mini baby doll
& Artistic eyes embroidery
& Doll hair embroidery
Fabiola Perez-Sitko von Fig & Me:
Long dollmaking workshop. Create a doll with Fig and Me
& Advanced Workshop on Stuffing
& Advanced Workshop on Needle-felting a doll's head
Olga Piasetska von Genuine Dolls:
Small traditional doll in a pocket size (20 cm)
& Traditional doll size 38-40 cm
Elena Pogoraeva von Atelier Lavendel:
Creating a Waldorf Inspired Doll, Classic Style, approx. 40 cm
& Creating a Teddy Bear, Miniature Classic Style
Dorota Strzebonska von Mum & Dot:
Face sculpting
& Processing suri alpaca fiber & Sewing wefts
& Dressmaking with Liberty of London fabrics
The tutors did a tremendous great job as well. If asking the students attending the various workshops,  they solely spoke words of praise about their teachers. With smiling eyes beaming and contagious passion and enthusiasm, they were describing the qualities of their tutor and workshop in detail.
The work and dolls created at the end of the workshops were also proof of this high level and quality.
My "North Coast Dolls" Workshop attendance
The first workshop I attended this weekend was the "Advanced Dollmaking Workshop" by North Coast Dolls. Meaning the incredibly talented and kind Meglena Jézéquel would be my tutor for two days.
I could hardly wait to learn from one of my idols, hopefully ending up creating a similarly beautiful doll just like hers are.

Meglenas' North Coast Doll "Colombe" patiently modeled throughout the workshop.

Dollmaking magic happened at this tables.

Not only her dolls show Meglena's love and passion for what she does -it is noticeable in every detail.

A particularly nice surprise were the envelopes containing cute little doll dresses, which every NCD workshop participant received one of as a gift. So none of the dolls had to go home naked afterwards! ;)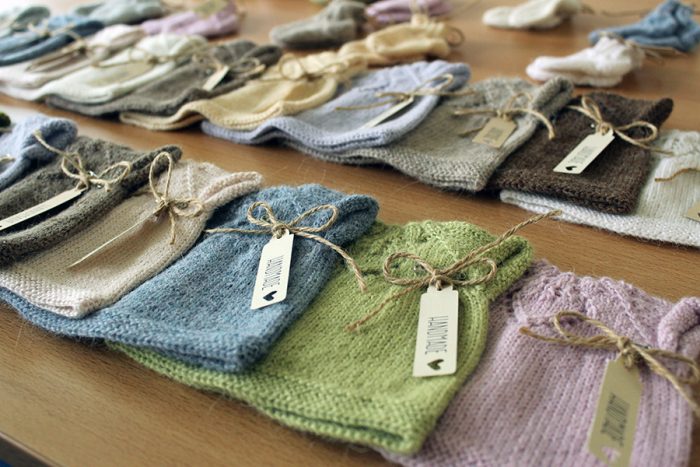 There were also adorable woolen socks and dresses (hand-knitted by Meglenas mom) for the dolls.
Each student also got a detailed written instruction with all patterns, in order to be able to deepen the knowledge gathered.

This wire armature, forming the doll's neck like a "backbone" also makes the dolls head poseable.

To me it's still almost like working magic when slowly a doll personality starts emerging from simply wool with only the help of a felting needle and patience…

Meglena has been an excellent teacher – just the right combination of indulgent patience and demanding trust in ones skills. ;)
She patiently explained and guided us through the whole process of her way of dollmaking. Sometimes explaining the same step for the fifth time in a row if necessary with still seemingly infinite patience. Meglena provided assistance where necessary only to shortly after giving room for us to learn through our own actions. She was always well prepared for every upcoming eventuality (with a seemingly inexhaustible replacement of material when needed). Always standing by our side, still teaching even far beyond the official class hours.
The entire workshop was very well structured, her instructions precise and her doll making knowledge extensive. Allowing us to trust in our hands work through her guidance, growing and refining our own dollmaking skills.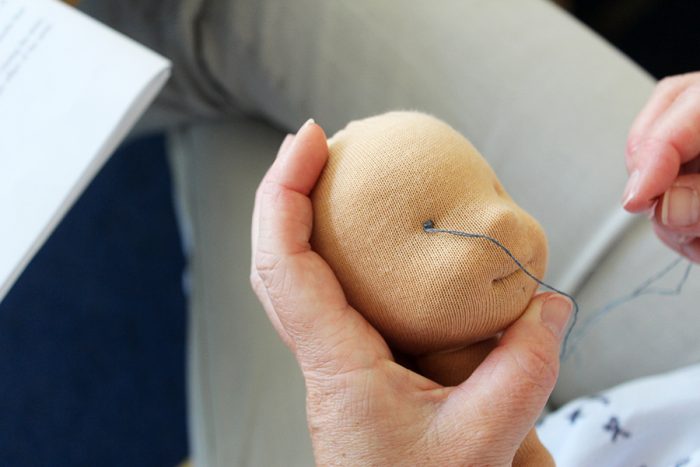 An important step: embroidery of the eyes.

During the workshop Meglena also showed and explained popular techniques, such as weft making or the rolling wool method for achieving rockhard doll limbs, along with other valuable tips that were passed on to us.
However, it quickly became obvious that it would be a difficult task finishing the dolls completely in time. So on the last day of the workshop we decided to extend the course hours ending from 5 to after 9 pm. And our amazing tutor Meglena also took her time to guide us on beyond the official time.
Thank you Meglena, for your inexhaustible patience with us and for sharing so much of your dollmaking knowledge! I am trouly blessed and thankful for meeting you and that you took the time teaching us.
So finally each of us students could actually take their finished doll home, being the result of two days of extensive doll making – mostly consisting of sewing, embroidery, stuffing, sweating (we had the "best weather" possible that weekend with up to 86°F), between murmured swear words followed by relieved laughter, chattering, giggling and talking all things doll,…
In the end, we all were more than satisfied with the outcome:

Meglenas redhead "Colombe" sitting among three dolls made by her students.
So here ist the 12" doll I made with Meglenas guidance during the "North Coast Dolls" workshop:
She has a sculpted face, brown hair of goat weft and very firmly stuffed limbs using the rolling wool technique.
Psst,… She told me her name is "Emilia".
:)
Textile Market
In addition to all the workshops, the textile market took place on Saturday offering all things dollmaking. The seminar participants also had the opportunity to sell their own hand-made goods and dolls there.

There were gorgeous christening robes, antique lace, ribbons, braids, threads, wool, buttons …

… and so much more causing a sewists heart beat faster.
There also was a large selection of fabrics from Liberty of London at the "Provence" booth.
Of course Kamrin's Poppenatelier had a booth, where you could get all the essentials for dollmaking.
And Fig&me Fabiola's husband had a small booth where you could buy the Magic Wool Wands.
I am sure many participants afterwards wondered about their suitcase suddenly being a whole lot heavier than on the arrival… ;)
"Mum & Dot" Workshop
My second workshop of this seminar weekend was "Dressmaking with Liberty of London Fabric" by Dorota Strzebonska of Mum & Dot, which took place on Sunday morning.
From nine to twelve o'clock we were tracing patterns, sewing, ruffeling and ironing.
Although there was a bit of delay at the beginning until everyone got their machines set up, but soon each of us eight students (btw none of whom had accidentally picked the same fabric twice for their dress on the textile market!) had started sewing a cute little dress under Dorota's excellent guidance.
It also was nice to hear Dorota chat about her journey into dollmaking and to be able to ask various doll-related questions.
Unfortunately, the workshops time was not quite long enough, so at the end Dorota instructed us without further ado but quite wonderfully detailed, so that everyone would be able finish their dress later at home.
On top of that I was able to take some very valuable sewing tips along with me from this workshop.
The finished dress – thanks to Dorota's instructions, this was no problem.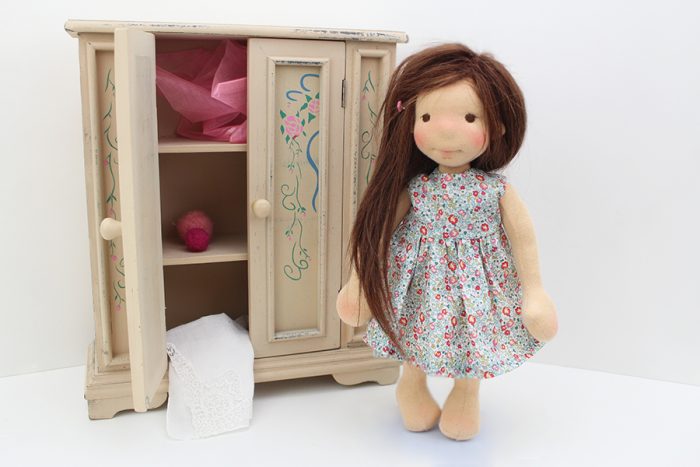 The dress by the way has the perfect size for Emilia. So she did not miss out on the opportunity to model it here … ;)
&
Last but not least greetings and thanks finally go out to all the wonderful women from all over the world, who together have shared and celebrated their love and passion for doll making this weekend!
Thanks to this event I have finally been able to meet so many fine colleagues, which up to this point I only have known online. Including the women behind handmade(-doll) labels such as Feinslieb, Loulabee, Puppenmacherei, Frau Göllner, Bienchen & Blümchen, Ollebolenmuis, Waldorf Doll Shop, brudusmidjan, More than Somewhat, la.tete.a.tokyo, stoffolidolls, … to only name a few. :)
It was a very enriching and somehow magical event and I'm truly grateful to have been able to attend and becoming a small part of it, too – and for sure this certainly has not been my last time.
So here's to until we hopefully meet (again) in two years time at the next
"European Waldorf Doll Seminar" …
Also: Go check out even more photos and a great blogpost about the "European Waldorf Seminar" by Maike Cölle on her Feinslieb Blog here!
---
RoseMint Dollstudio Instagram: @rosaminzepuppen
&
RoseMint Dolls Facebook: www.facebook.com/rosaminzepuppen