The very last doll I made in 2019 was this special custom order doll:
Her doll mom wished for a doll with a fairy vibe. She should have blonde hair and blue eyes and also wear a pink dress, that would remind her of a princess …
Otherwise, I don't often make dolls like that, but I love challenges. Therefore, I was thrilled to be able to fulfill this "pink girl's dream". And immediately I had a picture in my mind's eye of what this doll would look like.
Gwen
And so, just in time for the end of the year and right before Christmas, I created my last doll for the year.
May I introduce? … This is "Gwendolyn":
"Gwen" has long golden blonde hair, blue eyes and peach-colored skin.
She also has a needle felted face with a little nose and mouth. In addition, small ears and a bum. The doll body is made after my model "Rabauke", this means i.e. she can sit freely and her arms and legs are well movable.
In addition, the doll is stuffed very firmly, so that she can stand on her own with a little assistance and also does not lose her shape after years of play.
Like all RosaMinze dolls, she does come with several clothing items:
Her short pink jersey pants keep her warm under her princess fairy dress.
The dress itself consists of two parts. The top has an insert with satin in the middle and delicate wing sleeves made of purple organza. Just like the peplum of her swinging skirt.
Her princess look is topped off with a little pink glittery crown.
To match her pink outfit, Gwen wears a knitted woolen cardigan with buttons and hand-knitted purple socks.
Fairy – Princess
At first glance, Gwen is a real princess fairy. But if she doesn't wear her fine dress, she is also up to any mischief-making adventure …
I needle felted her face out of wool in more detail and  later carefully embroidered her eyes by hand.
I really enjoyed working on Gwen and the pink girl's dream – she lured me a little out of my "comfort zone". Therefore, she will certainly not remain the last doll of this kind I will create.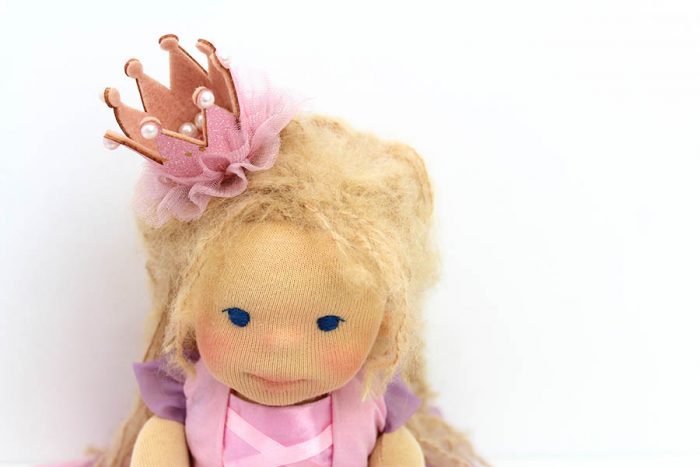 So there will also be some dolls with needle felted and more elaborated faces this year.  I just like working on them and the way how you can give the doll a certain expression…
Gwen of course meanwhile has already arrived at her doll moms house. And she was just in time for Christmas.
And with that all said I am turning the page and opening up a new chapter for my dollmaking in this still new year.