I have always tried to be pragmatic about the challenges that I encounter everyday during my work as a dollmaker.
The dolls living in my studio, always keep complaining about the unorgainzed pile of clothes that are stacked everywhere. It makes it impossible to find any piece of garment.
Therefore, I have been looking for a nice and functional clothes rack for doll clothes for quite some time now…
Dolls clothes rack
But it should not be just any clothes rack, because it had to meet some special requirements and wishes of mine:
On the one hand it shoul be made of wood while not being too heavy. But rather be lightweight and therefore portable. Above all, I need it to present my self-sewn and knitted doll clothes at my doll workshops or when attending markets. Therefore it should be also collapsible, so I could take several of them with me.
I love challenges
But as much as I looked around, somehow there was never a doll's clothes rack that fulfilled all my criteria at the same time. Besides, of course I did not want to spend a lot of money on it, since I would need several of them.
I finally had the idea to  simply ask my dear husband if he could build such a rack for me.
Because coincidentally, he likes to work with wood and has a talent for it, too.
In addition, he has a small workshop where he would be able to professionally implement my assignment for a clothes rack that meets all my requirements.
So I finally described him my dream dollclothes rack, giving him the right dimensions and desired functions …and so he went to work.
Et voilá… soon I was holding my dreams doll clothes stand in my hands!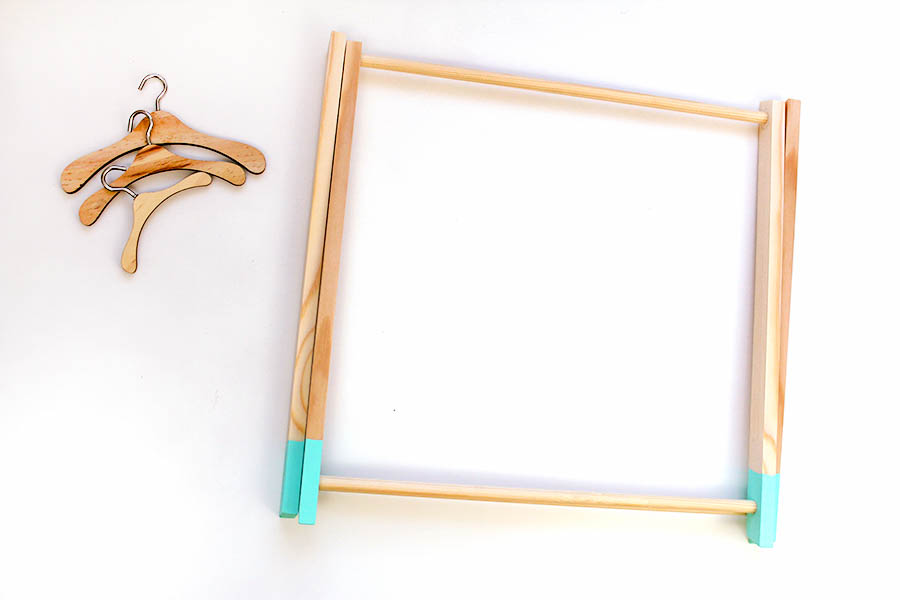 The doll's clothes rack is made of soft pine wood. The surface is polished and oiled.
It has exactly the right dimensions to hold my 35 cm dolls clothes.
And to my delight, the clothes of my bigger and smaller dolls also fit perfectly on it.
I love it that my clothes stand weighing 0.135 kg is actually a lightweight. And of course it is collapsible. So it fits flat in my bag and I can easily take it anywhere.
I was smitten with its looks. Also it passed my everyday stress test already.
I was overjoyed. Therefor I soon considered sharing it with everyone who was looking for something similar. So I went and ordered a few more.
And the RosaMinze doll clothes stand is now also available in my shop.
(However, just in this limited mint or pink color edition and while stocks last.)
Of course, the clothes rack is designed not only for dollmakers, but will certainly please one or the other little doll mommy. Also it looks quite pretty in the nursery.
So if you are looking for a nice and practical Christmas present (for yourself?) – You can simply order one in your favorite color (pink, mint or nature).
There could be more colors some day soon, too – maybe sunsgold, starsilver … or pumpkin? ;)
Ends Well…
So my search for the perfect doll clothes stand finally came to an end. From now on, I could enjoy my fancy doll accessory every day.
And of course, the dolls were also excited that they no longer had to pick up their clothes from a big pile off the floor…
;)
Since I now knew that my sweetheart could fulfill all my orders for wooden doll accessories just wonderfully, I immediately gave him a long list with more doll stuff to build…
But I will tell you more about that some other time.
:>
PS: You can now watch a short demo video here: