This very special RosaMinze "Rabauke" doll was a custom order for Christmas at the end of last year.
And the doll mom had very specific ideas and guidelines for me how she wanted her to look and what to wear …so I tried my best to meet her guidelines and thus created this little woolen child:
Millicent is a 14 inch (35 cm) "Rabauke" doll by RoseMint doll studio.
"Rabauke" doll "Milli"
"Rabauke" in German means something like "rowdy"… But admittedly, this doll does not look "rowdy" at all, does she? But rather, she is of a very gentle nature.
This delicate wool soul has apricot-colored skin, light brown long hair, and soft brown eyes. In addition, she has ears, buttocks and a bellybutton as extras.
And since I have gotten precise specifications regarding Milli's clothing by her future mom beforehand, Rabauke Milli also comes with an extensive wardrobe:
This includes a reversible dress made of grayishblue linen fabric.
Underneath, she wears dark blue panties with a cherry print.
She also brings brown leggings and hand-knitted socks.
Milli also has a knitted cardigan of mustard yellow wool, that can be closed at the front with two wooden buttons.
The matching knitted bonnet with pompoms completes her outfit.
The clothing can be combined to different outfits.
And the reversible dress has a fine blue and white striped pattern on the other side.
Milli is a rather classic Waldorf style doll. Even though she has some extras, such as nose and ears, etc., she still looks more traditional. Her clothing also contributes to this, which is intended to underline her timeless character.
She is definitely a special doll with her own charm. At first glance, Milli looks rather wise and friendly, and yet she also has a funny side to her.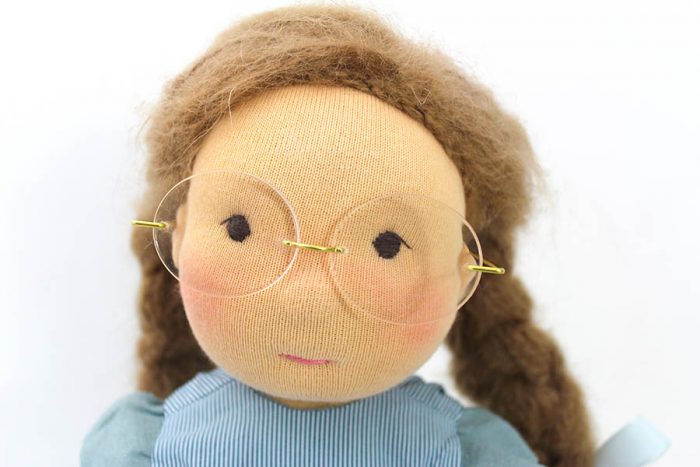 Milli has already traveled home to surprise her doll mom for Christmas…