Things do find their place around here, albeit very slowly.
As some may already know, I moved into  my new little studio in the attic last christmas. Slowly everything finds its place. Even if the roof slopes still are a challenge, because there naturally is less hanging and standing wall space, but in the meantime a good compromise has emerged …
Kukalka Studio

My main goal was to get as much working space out of the room as possible.
In the middle of the room is a big wooden sewing table. In the back on the wall I put three tabletops from ikea together, so I got one big desk.
On the left there is my little sewing corner with the overlock and sewing machine. In the center is my actual working area. I work on the dolls here, because of the light and the window there. Also my laptop is sitting on the desk there. On the right is my little ideas and sketching area of the desk.
Not pictured in this photo is the knitting corner, my shelf under the slopes and my photography table.

We had to build this shelf ourself to make it fit customly under the roof slopes.
On my desk: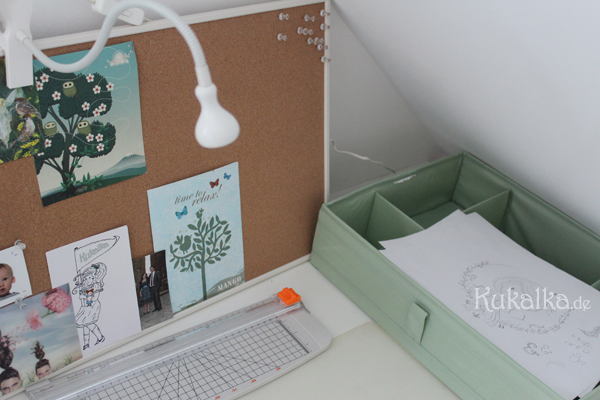 This is my current planner by Websters Pages, always by my side.
I am a big lists and organisation nerd. So I never go anywhere without my planner.
I simply love the little wooden figures by willow tree. This figurine has been gifted to me as I moved into my new little studio and it is fittingly named "Courage".
This is only a little glimpse into my doll studio. I am still figuring out where to put things and some stuff still has to find its place. I may post an update  to this soon.
Now I am curious to see all your working spaces… care to share?! :>