Ohoh, it seems to me the year has just begun – And yet spring is here already.
I hear the birds chirping, flowers blooming and the easter bunny is already hopping our way.
Paper Dolls & Bunnies
At our house Easter is mostly a family come together. There is an extensive Easter brunch with lots of food, fun and laughter – and with all the treats the heart desires.
The children look for hidden easter eggs and baskets in the garden and get excited about one or the other little present.
But it does not have to be just sweets and chocolate. No, instead small books or something simple for crafting can be a fun gift from Mr Easter bunny, too.
At least one can enjoy it longer than a chocolate bar lasts. ;)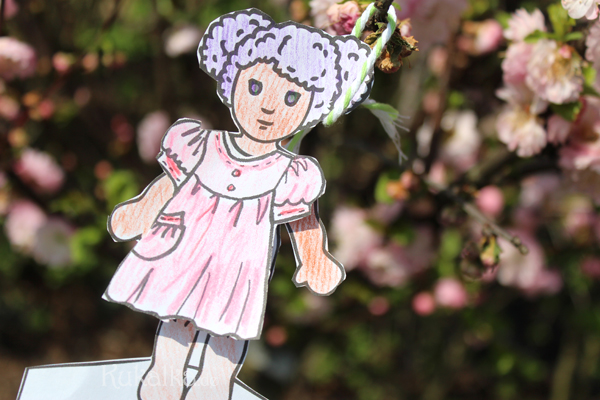 Not so long ago I was in search for something I remembered vividly from my own childhood.
Growing up as kids we used to play with sets of paper dolls at such family meet up occasions when sitting at the kids table (after brunch was quickly over for us kids).
But since I did not find anything that I liked and what merely resembled anything as I recall it from my childhood. I took the time and draw some waldorf doll inspired classic dolls on paper myself. Along with lots of matching wardrobe items of course.
And finally I create a digital file for printing out of my drawings. (I already blogged about this once here.)
By now everyone can buy my paper dolls as a PDF set for printing at home, they are up here on my Etsy shop.
With the 7-page PDF file you will get a short instruction guide, eight different dolls
along with 4 sheets of different outfits and accessories for the paper dolls.
Big and small children will enjoy this alike. A perfect activity on a nice Easter afternoon, busy kids with nothing but the paper dolls, pens and scissors.
These paper dolls are ideal for crafting and playing – As a nice little easter gift or as an activity for a rainy afternoon …
Paper Dolls: Print, Color & Cut
The file can be easily printed at home, preferably on thicker paper.
You can color to your own imagination, then cut them all out and be busy dressing up the dolls over and over again.
The paper dolls can even be printed on magnetic paper and then played with on a refrigerator or other magnetic surfaces.

Giveaway
And since Easter is right around the corner, I will give away one of two Paper Dolls Set to a lucky winner.
Giveaway!
Win* one of two digital PDF Files with the complete "Paper Dolls" Set:
1. Follow RoseMint Dolls on Facebook and/or Instagram and like/share this Give Away.

2. Then Comment  (here or on Facebook or Instagram), for whom you would like to win a Paper Doll Set. :)
Each post counts as one entry in the draw, and you can enter once on each channel.

You can participate until 30th of March 2018 (midnight german time)!
Both lucky winners will be randomly drawn from all entries on the 31th of March 2018 and will be informed via E-Mail.
Please make sure your mailbox is not full and you have installed the free the Adobe Reader for printing out the file (www.adobe.com) beforehand.
Good luck!
* Zu gewinnen gibt es je eines von zwei zur Verlosung stehenden Paper Doll Sets, bestehend aus einer 7-seitigen digitalen PDF Datei. 
Es wird kein physikalisches Produkt verschickt. Nicht enthalten ist daher auf den Fotos oben abgebildetes Zubehör wie Stifte, Schere, usw.
Die gewonnene Datei wird per E-Mail versandt. Bitte beachtet, dass bei diesem Gewinnspiel eine Mehrfachteilnahme und automatisierte Masseneintragung ausgeschlossen ist.
Der Versand kann nur an gültige E-Mailadressen erfolgen. Bitte sorgt selbst dafür, dass ihr genügend freien Speicherplatz im Postfach habt.
Sollte eine E-Mail unzustellbar sein, verfällt der Gewinn und es wird ein weitere Gewinner ausgelost.
Eine Auszahlung in bar ist nicht möglich und der Rechtsweg ist ausgeschlossen.