Kukalka's Paper Dolls
I have always loved dolls. In whatever shape and material. I also love to draw.
So it was a logical consequence to design my own Kukalka paper dolls. All along with lots of clothes and accessories to play dress up the whole day…



You can now Download the 7-pages PDF of my cutout Kukalka "Dress me up" – Paper Dolls and their clothes.

Cutouts include a "base" that can be cutout and attached to make the doll free-standing
Cutout paper dolls can be printed on heavier card-stock to provide stiffness so they will stand up.
Please cut out the dolls and clothes carefully along the lines. Do not cut the tabs off. The Clothes are held onto the dolls by folding the tabs.
The Paper Dolls are also a prefect gift for your party or crafts, activities & stationery.

I just love drawing paper dolls,
and I hope you'll love having them, printing them out, cutting them out, coloring and playing with them!

Color the dolls and clothes yourself and let your creativity and imagination run wild
– Perfect for the collector in you, or for your kids to play with too!

You can get magnet paper kits from major stationary stores. You can then either send it through your printer – or if your printer isn't up to it, you can print it off on regular paper and glue it on to the magnet paper. Colour in with markers, carefully cut out, stick on your fridge, and have fun!
(This way it makes it much easier for younger children to dress up the dolls when they don't have to use the little tabs)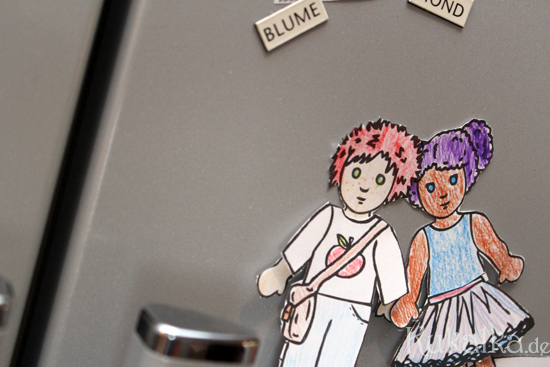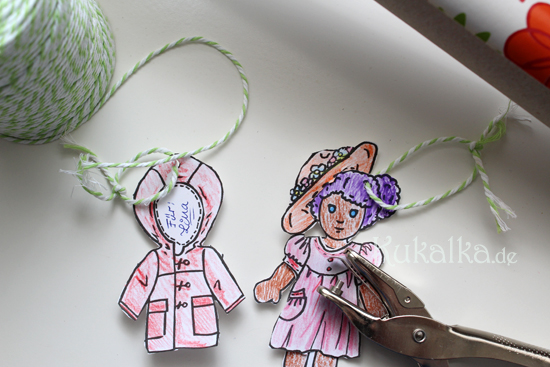 My "Kukalka Paper Dolls" are now available for Download here at my Etsy Shop.

Free Paper Doll Bookmark
As a bonus I also created a little free to print "paper dolls bookmark"- Download the PDF now here.
All printables are for personal, non-commercial use only. Thank you!

All illustrations, photos and templates are ©rosaminze.de 2015